The evolutionary history of plants and their insect adversaries is a story told by the scars on fossil leaves. Insect damage on a single leaf captures one moment in time when an insect fed upon a plant, but it also reflects the millions of years of evolution leading up to that moment. Insect herbivory evolved over 400 million years ago and its effect on terrestrial ecosystems through time has been immeasurable. Only recently have scientists begun to understand the evolution of plant and insect interactions in the fossil record. Many of the prominent ecological patterns we see today are as yet unknown in deep-time. Furthermore, many of the richest fossil deposits have yet to be described, most notably during the Late Cretaceous Period (100–66 million years ago).

My research surveys plant-insect interactions from three Late Cretaceous fossil floras from North America. Seventy-five million years ago high sea levels divided North America into two subcontinents, Laramidia to the west and Appalachia to the east. Laramidia was an elongate landmass that stretched from present day Mexico to Alaska and preserved a vast diversity of organisms, including plants, turtles, crocodiles, dinosaurs, and mammals. Whereas many of these fossil groups are becoming increasing well characterized, Laramidian plant-insect interactions are wholly unknown. My primary goal is to understand the diversity of plants and their insect herbivores to systematically reconstruct Laramidian ecosystems.

Powered by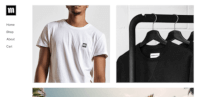 Create your own unique website with customizable templates.